The above image is for illustrative purposes only.
About the Project
Napanee BESS Inc., a joint venture between Atura Power and Ameresco, is initiating a Class Environmental Assessment (EA) for the Napanee Battery Energy Storage System (BESS) project. The project is located adjacent to Atura Power's Napanee Generating Station (NGS) and Ontario Power Generation's Lennox Generating Station (LGS) in the Town of Greater Napanee.
Need for the Project
Napanee BESS is committed to building a resilient electricity grid in Ontario and is working to address the energy supply shortfall that Ontario is projected to experience in the near future. The proposed project is part of efforts to address this supply gap and to make energy production more efficient and affordable.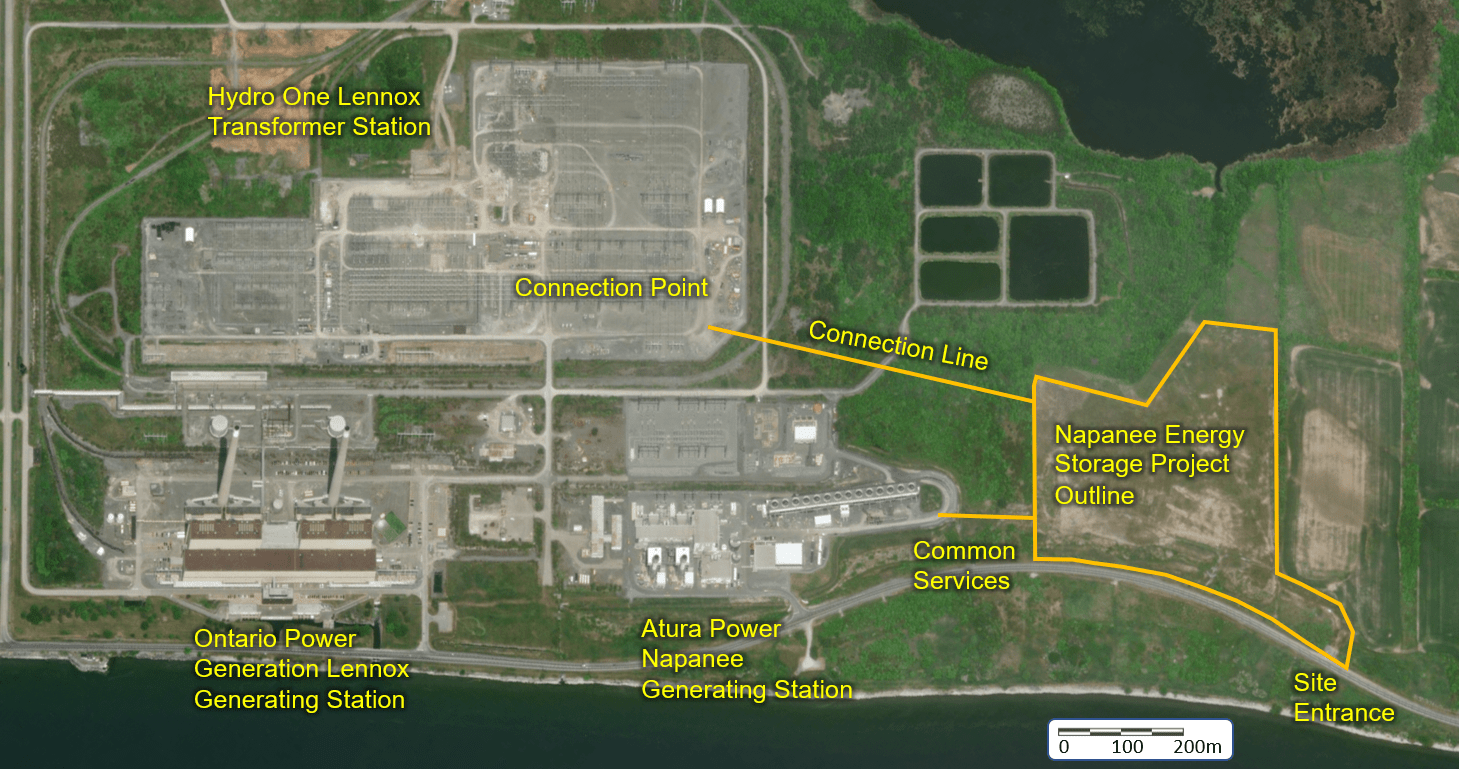 Overview
The project will include the construction of battery energy storage units, transformer stations (TS), transmission connection facilities, and ancillary components. The project will ultimately provide a maximum of 500 megawatts (MW) of power storage and up to four hours of electricity output available during periods of high electricity grid demand. The project will use some of the existing infrastructure but will be a standalone facility, operating independently of the NGS and LGS.
What is Being Proposed?
Construction and commissioning of the Napanee BESS project is proposed to occur in two phases that, together, will ultimately provide up to 500 MW of power storage and up to four hours of electrical energy output. Phase 1 will comprise the construction and commissioning of the 250 MW BESS facility that was approved through the Independent Electricity System Operator's (IESO) expedited procurement process. Feasibility studies are currently underway for a second BESS facility (up to an additional 250 MW - Phase 2) which would be subject to future IESO procurement.
Phase 1 and Phase 2 will require the construction of a new high-voltage TS to step-up power received from the BESS at 34.5 kilovolts (kV) and deliver it to the high voltage (500 kV) IESO-controlled electricity grid. A high voltage BESS tap line (500 kV and less than two kilometres in length) will connect the new transformers to the IESO-controlled electricity grid at a point of interconnection within the NGS switchyard.
Class Environmental Assessment Process and Project Timeline
While the battery energy storage units are not subject to an EA, the TSs are subject to the Class Environmental Assessment for Minor Transmission Facilities (Class EA for MTF) (www.hydroone.com/ClassEA) in accordance with Ontario's Environmental Assessment Act. It is anticipated that the Class EA Screening process for smaller scale projects with minimal environmental effects will be followed, subject to Napanee BESS satisfying the screening criteria outlined in the Class EA for MTF.
A Notice of Commencement of a Class Environmental Assessment and Invitation to a Public Meeting was issued on June 8, 2023, to communicate the start of the Class EA Process.
We Want to Hear From You!
Napanee BESS is committed to engaging Indigenous communities, the public and other stakeholders on all our projects.
We invite you to attend an upcoming public meeting to learn more about the Napanee BESS project and provide feedback.
Please join us!
Date: June 28, 2023
Time: 4 p.m. to 8 p.m.
Location: South Fredericksburg Hall
Address: 2478 County Rd. 8, Greater Napanee, Ont.
Access for all is important. If you have accommodation needs related to the public meeting, please connect with us through the "Contact Us" form below.
If you are unable to participate, meeting materials will be posted here for review following the meeting.
Project Documents
Project documents will be posted here as they become available. Please let us know if you require an alternate format for any documents posted through the "Contact Us" form below.